The Glass Barge Returning to Birmingham
Our summer season is gradually drawing to a close and we are heading back to Birmingham for a Floating Market on 23rd to 25th September. Hopefully the weather will be nice to us that weekend and bring lots of people onto the canal.
Today we are in Braunston and have been trading yesterday and today. We had the last 2 weekends off as we needed to make a visit to Eastbourne and then go on to a family party in Bishop Waltham, Hampshire. It was a lovely get together and a nice break away from the boat life for a few days.
It has been really nice to have people coming onto the boat who have read the recent article in Tillergraph and we have also heard from other boaters we have met in the past who are pleased to hear about our progress.
We are now thinking about booking land based Craft fares in the run up to Christmas! Yes Christmas will soon be here!!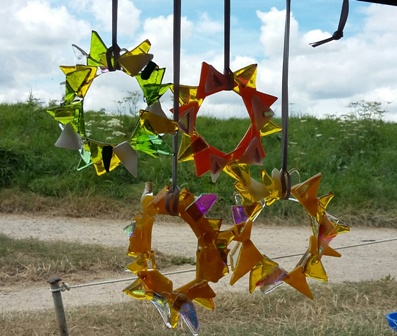 These hangings started being made as Christmas tree decorations, but we have been making them all year round for window hangings, Christmas tree ornaments or even pendants!
Production will now turn back to the green and red ones that we started with, although other colours will be available.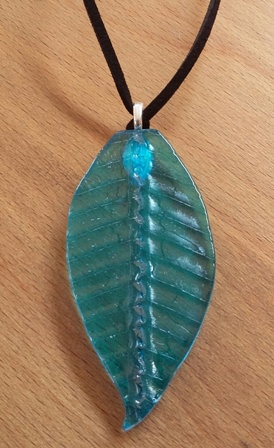 This leaf pendant was made for a commission.
We used a textures irridescent glass to get the leaf vane effect and were really please with the effect it created.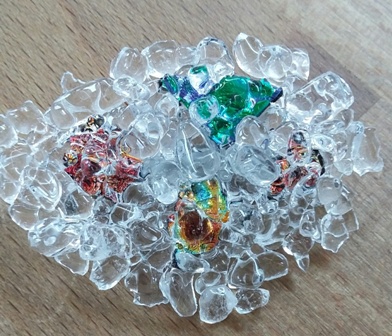 We had mounted this as a brooch and have been asked to repeat the design and mount as a pendant.
While thinking about this we also came up with a better way of making this type a pendant/brooch by using a shaded forma cut our of fibre paper.