At last we have sunshine and warmer weather. The daffodils are our and yesterday the floor screed was laid in the house, so all is good in our world. The only down side is that we are not finding much time for glass work! However, I have been booking a few land based event for the year – see the 'What's on' page for details.
Since Christmas we have been laying floor insulation and then underfloor heating pipes, ready for the floor screen.
While waiting for the floor screed we turned our attention to digging the Attenuation (soakaway) for the ground water drainage. Andy go to play with the digger again, but I opted out of that and just kept him supplied with tea and coffee.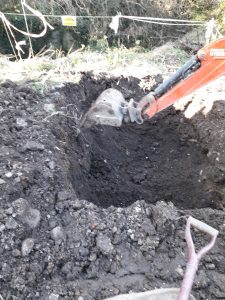 We did manage to spend some time at The Glass Barge and started on an experiment making a pattern bar to cut into pendant and earring sized pieces. We go a firing done overnight, but will have to wait for the next visit to do the cutting.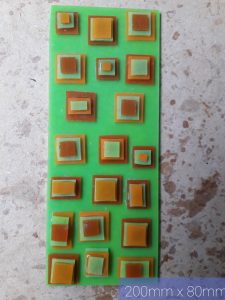 This is one before firing. I will post the 'after' picture later, when we have been for another visit